Discover How Modern Bill Pay Can be a Competitive Differentiator for FIs
It's GO time for bill pay!
Data confirms three-out-of-four consumers pay their bills directly to biller websites instead of using the bill pay platforms their banks offer.
It's time to change the score.
Building the Business Case for Modern Bill Pay offers a look at consumer bill pay preferences and steps your financial institution can take to regain (and retain) customers by giving them the bill pay experience they want.
By clicking this button, you submit your information to BillGO, who will use it to communicate with you regarding our services.
What's inside:
Why modernized bill pay is an essential part of building long-term customer relationships
How consumer expectations have grown beyond the limitations of legacy bill pay
What steps other FIs have taken to modernize their bill pay technology
How you can build an airtight business case for modern bill pay
Checklist for adopting a modern bill pay system
Download now and take the first step toward delivering the cutting-edge bill pay experience consumers demand.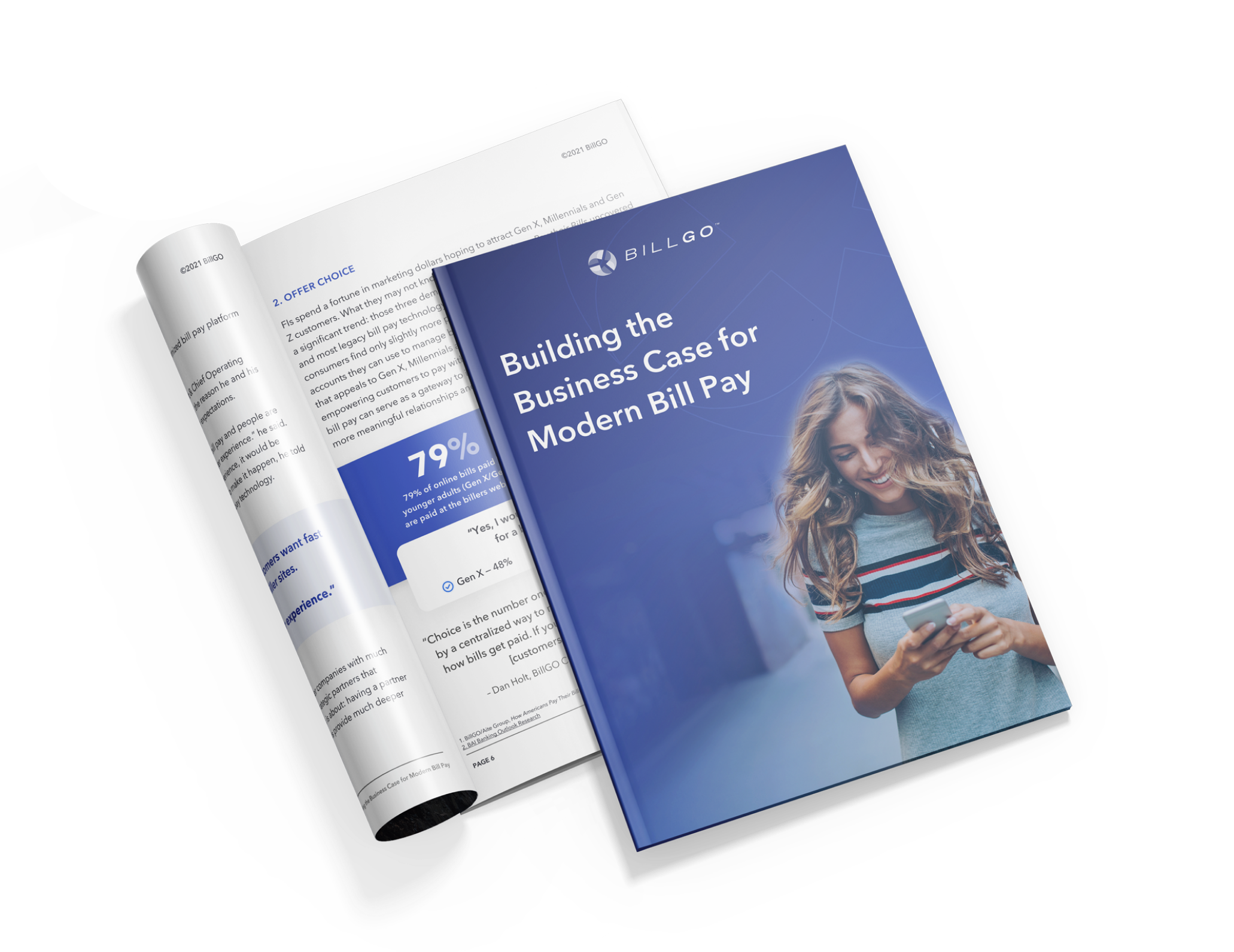 About BillGO
Driven by the core belief that everyone deserves access to a healthy financial future, BillGO's award-winning real-time bill management and payments platform transforms the dreaded necessity of managing and paying bills into an opportunity for financial well-being. BillGO empowers over 32 million consumers, thousands of financial institutions & fintechs to seamlessly make payments to over 170,000 supplier endpoints – transforming the way people make and receive payments. By combining speed, choice and intelligence with simple integration, BillGO is accelerating and delivering a new way to bill pay.
Visit BillGO.com and find out why it's GO time.